"Snow Lilies," oil, 10"h x 8"w, ©Jill Banks 2015 ($650)


Another six or seven inches of snow made it gorgeous outside ... especially because I was viewing it through the window in my dining room. It took me too long to get started but the easel is set up, ready for whatever scene I'd like to capture tomorrow.
Happy Emails
Soon after I heard of the acceptance to
Wayne Plein Air
(a top tier plein air competition held in Wayne, PA -- on the Mainline near Philadelphia, PA), another invitation landed in my inbox, this one to the
Virginia Beach Boardwalk Art Show
this summer. That's a four-day, set up my "gallery under a tent" affair, right on the boardwalk with the backdrop of sand and ocean. Sounds pretty darn exciting. (I know some paintings will come from my time there.)
My booth at a 2014 art show ... looking forward to showing at VA Beach and Rockville and more!
Another email arrived inquiring about my willingness to be the juror for a major exhibition. I definitely would love to ... and will see if that happens. I've been a juror before and selected jurors as well. I take all of my "Jobs" seriously ... whether it is painting, being a good studiomate, applying to shows, putting up an exhibition, marketing, teaching, mentoring, and on and on. Being a conscientious, informed, open juror is SO important. I've been on the receiving end of those who cared a lot, and unfortunately, those who walked in with egos and biases out the wazoo. What a difference.
And One More ... Just In
I've been invited to participate in
A-RTS @ Rockville Town Square
, an exciting outdoor juried fine arts show on Saturday and Sunday, May 2 & 3. I said YES! I was #1 on the wait list for painting. Most of the shows I apply to get tons of applications and work to "build" a balanced show so there isn't a disproportionate number of painters vs. fiber artists (as an example). That means there are a limited number of spots for painters (a VERY popular entry category) and in order to be pulled from the wait list, a painter needs to NOT claim his/her spot. While the balanced show goal equates to more wait listing or rejections, particularly in a competitive category, it also improves your odds of doing well at the show that offers an invitation. I would guess, too, that it makes for a much more enjoyable experience for visitors as well. Anyway, I'm thrilled to be accepted. This year holds plenty of excitement ahead. Heck, it's already been great! I hope you'll visit me there and on other 2015 art-filled adventures.
Want to Share in the Excitement?
Paint with Me in Italy this Summer! Now's the time to sign up.
Paint with Me in Italy
Plein Air Workshop:
July 27 to August 2, 2015.
Other Art Events:
February-March: The Art of Romance
, Artists' Atelier, 1144 Walker Road, Suite G, Great Falls, VA.
In the gallery and around my studio, still lifes with lots of flowers, an indoor picnic, cozy interiors. See the show through the month of February, Wednesdays and Saturdays, noon to 4pm.
May 12-16:
Wayne Plein Air,
Wayne and Philadelphia, PA
. Juried as one of 30 artists nationwide to paint the area.
June 29-July 5:
Telluride Plein Air, Telluride, CO
. Juried as one of 32 artists who will spend the week painting this very cool town lined with Victorian houses, bustling street against a gorgeous mountainous backdrop.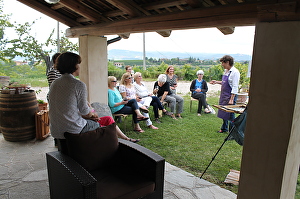 Paint with Me in Italy Plein Air Workshop: July 27 to August 2, 2015. Registration is now open. (This is where "Piemonte Lunch" was "born"!)
Ongoing: Visit the studio I share with 14 other artists at the Artists' Atelier, Great Falls, VA open Wed. and Sat., 12 to 4pm

Thanks for reading!
Jill
Phone: 703.403.7435
Email:
jill@jillbanks.com
Web:
www.JillBanks.com
Blog:
jillbanks.blogspot.com
Subscribe to my Email Newsletter:
News from the Easel