"Hot to Trot," oil, 12"h x 16"w, ©Jill Banks 2015
At least it started en plein air. Yesterday I headed to Kidwell Farm (part of Frying Pan Park in Herndon VA) because the temps were suddenly warm enough to make painting outside a possibility. The quick thaw left the ground full of snow and mud and by the end of my excursion I had wet, frozen feet but had enjoyed the adventure nonetheless.
A young visitor told me "Hot to Trot" was the "most beautiful painting in the whole wide world." She'll make an outstanding art critic some day (I hope).
Sign Up ... Please
Spring Classes
are up on my web site and registration is going on now. Sign up so we can have some plein air and other painting adventures together!
Plein Air Landscape Class Info
Still Life Painting in Oils Info
and
Paint with Me in Italy
- July 27 to August 2
Other Art Events:
February-March: The Art of Romance
, Artists' Atelier, 1144 Walker Road, Suite G, Great Falls, VA.
In the gallery and around my studio, still lifes with lots of flowers, an indoor picnic, cozy interiors. See the show through the month of February, Wednesdays and Saturdays, noon to 4pm.
May 12-16:
Wayne Plein Air,
Wayne and Philadelphia, PA
. Juried as one of 30 artists nationwide to paint the area.
June 29-July 5:
Telluride Plein Air, Telluride, CO
. Juried as one of 32 artists who will spend the week painting this very cool town lined with Victorian houses, bustling street against a gorgeous mountainous backdrop.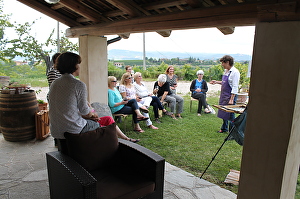 Paint with Me in Italy Plein Air Workshop: July 27 to August 2, 2015. Registration is now open. (This is where "Piemonte Lunch" was "born"!)
Ongoing: Visit the studio I share with 14 other artists at the Artists' Atelier, Great Falls, VA open Wed. and Sat., 12 to 4pm

Thanks for reading!
Jill
Phone: 703.403.7435
Email:
jill@jillbanks.com
Web:
www.JillBanks.com
Blog:
jillbanks.blogspot.com
Subscribe to my Email Newsletter:
News from the Easel